FTP is ancient, especially in Internet years. The basic protocol spelled out in RFC 765 was submitted for review back in June of 1980. It has evolved a lot since then and taken on additional protocols that are similar in name only. Classic FTP servers have slowly lost ground to cloud-based file sharing services ever since Dropbox popularized a more user-friendly way for sharing files. Now, you don't even need someone from the IT department to set things up.
The thing is, however, organizations often still need "traditional" FTP servers for automated system-to-system file transfers. Of course, these days, it has to have both SFTP and FTPS and, ideally, a web interface for business users.
So in 2022, can we get a file sharing service that offers the niceties of Dropbox, that also meets the demands where traditional file transfer protocols are needed? Let's find out!
The Requirements
We investigated this topic for a client recently, and these are the requirements we set out to fulfill:
Person-to-person file / folder sharing via a web interface (similar to Dropbox)
Client users can easily set up accounts for their customer / vendor partners
Shared file and folder permissions easily assigned
Ideally, the service will support FTPS / SFTP
White labeling of web, FTPS and SFTP is critical (Allows an existing FTP server's domain to be taken over)
Having an API is a plus
SSH key authentication is a big plus
Annual cost should be equivalent to current cost of maintaining their FTP server
We weren't sure if we would find a service that truly met every requirement, but that was the goal.
The Results
Below are the results of this research and my rankings for how well each fit these specific requirements. This is not an exhaustive list of every service available. Each has their own unique features, so I recommend using this as a starting point for your own research.
In this comparison, features were weighted left to right, with points being taken away if the service was not a strict file sharing service. A detailed review of each service with our ranking follows.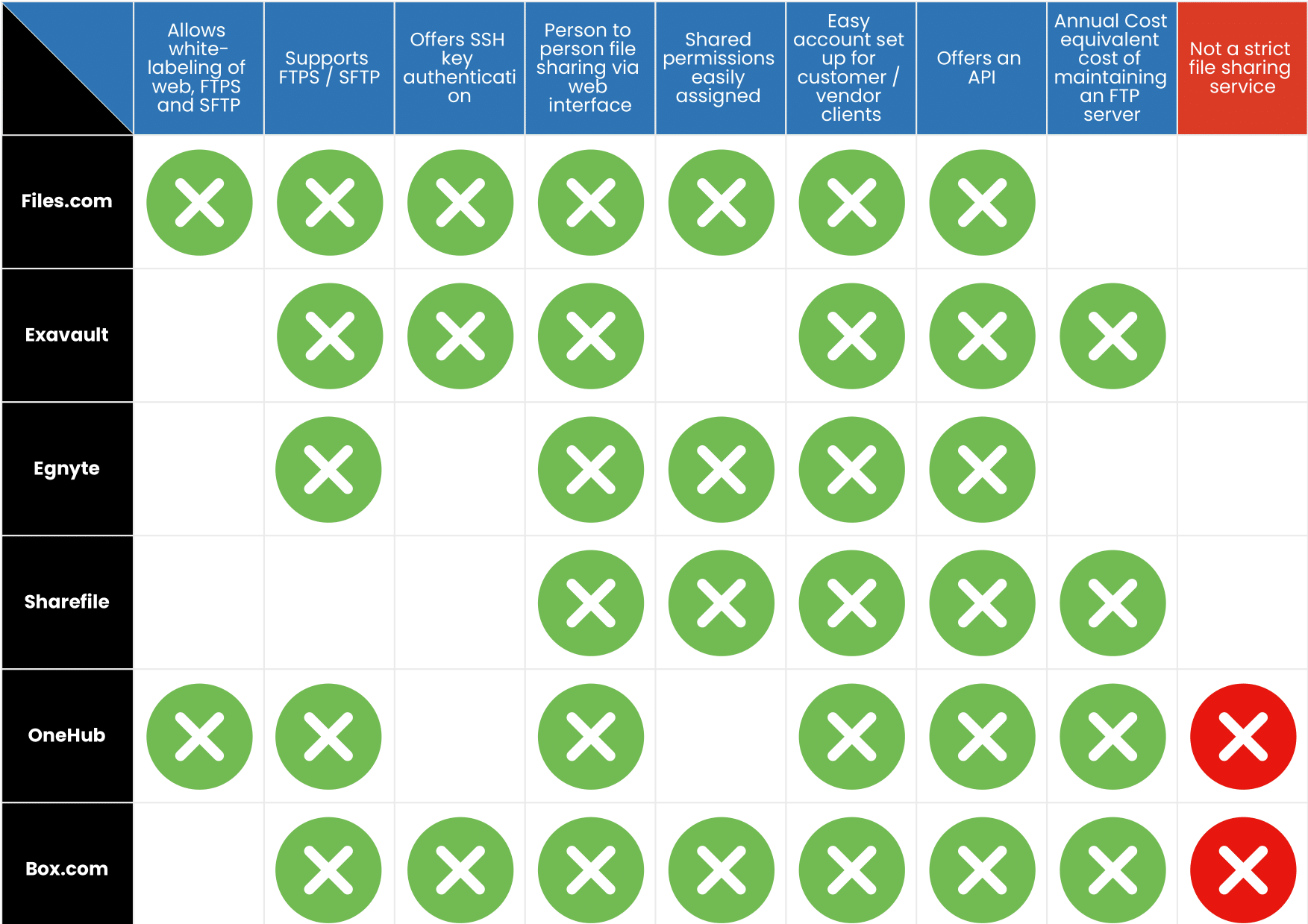 #1 Files.com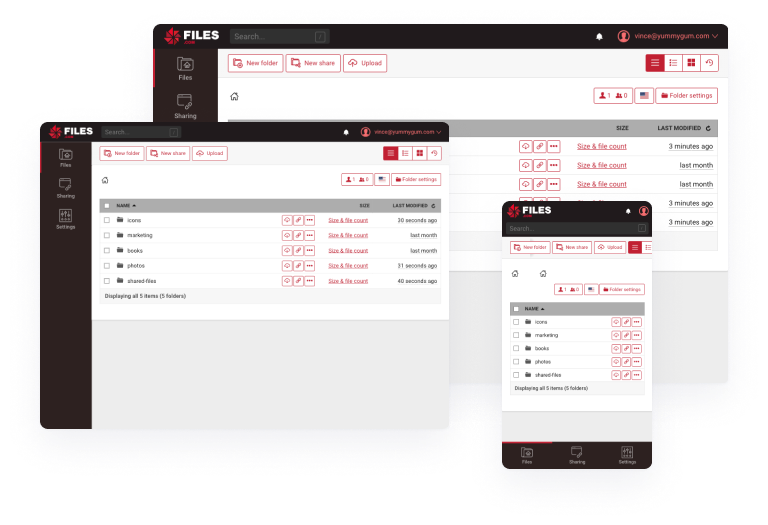 Files.com was a little harder to find than the other services on our list, which is surprising after seeing everything it has to offer. Though it didn't show up on the top of our search results, it still ended up at the top of our list, meeting almost all of our requirements.
The biggest drawback we found with Files.com was it is a little pricey compared to it's competitors, though it may be justified with all of the features offered.
The UI is simple and straightforward, making for quick and easy file uploads, shares, and new user set up. When an Admin sets up a new user, the user is given no permissions automatically, rather they must be assigned individually. This may seem like a small thing, however, accidentally sharing every folder in your server with an outside user because you clicked enter too quickly, is a lot easier to do when a new user is given permission to all files as a default. Permissions can also be assigned at a sub-folder level, giving Admin users much easier control over what each user sees.
There are over 30 useful integrations available, and the training, help, and feature documentation is very impressive.
Pricing, storage, and Features
Power 10
$45 per month per user (10 users minimum)
1TB of Storage
2FA
Microsoft Office Integration
Custom header and footer colors option

Power 20
$30 per month per user (20 users minimum)
5TB of Storage
Pair of dedicated IP addresses
Custom SSL Certificate for custom domains
Single Sign On (SSL)

Premier
$10k per year
10TB of Storage
Store files globally in all Files.com regions
Full migration assistance
HIPAA / HITECH Business Associate Agreement (BAA)
Pros and Cons
Pros
Able to send files to users with no Files.com account
Users are not required to set up an account to view sent files
Easy user set up and permissions handling
Use of all features during 7 day Free Trial
IP Whitelabeling option
Very good feature and support documentation

Cons
#2 – Exavault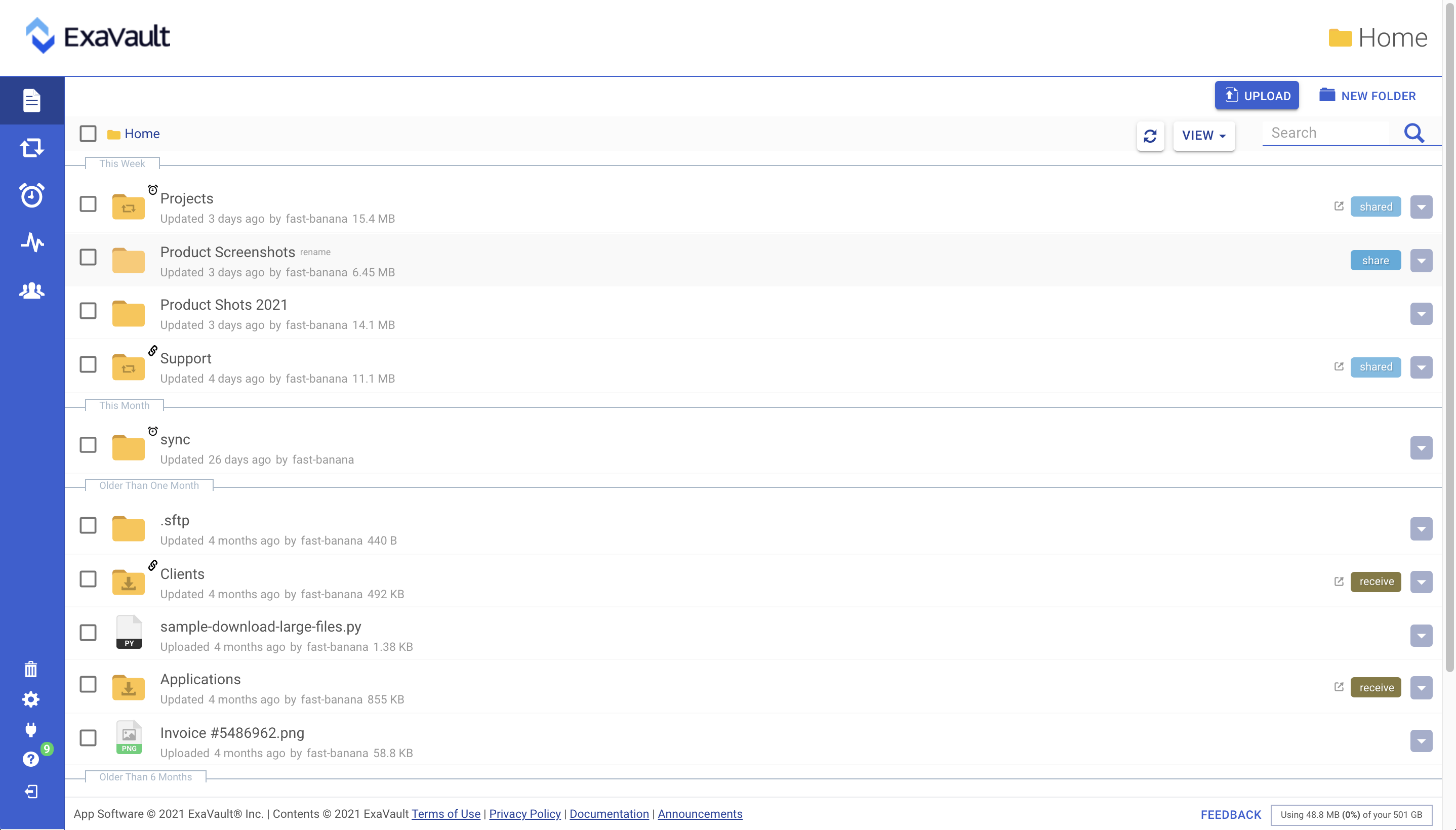 Exavault is a very solid service. There are a few improvements we would like to see, but with that being said, it still checked a lot of the boxes on our list.
The UI is simple and intuitive. It can be used strictly as a web-based app or a desktop app, and also offers access via FTPS and SFTP protocols. The Advanced and Enterprise Plans offer unlimited SSH keys, as well as 20 and Unlimited API tokens, respectively. Audit logs are included in all plans and include the date and time of an activity, the user's IP address, username, which file or folder was involved, and the type of activity that was completed, making every action transparent and trackable.
While reviewing the site during my free trial, I interacted with their Customer Support on a few occasions and was impressed by their knowledge, promptness, and follow up each time. Good customer service always adds points in my book.
Pricing, Storage, and Features
Standard Plan
$80 per month for 25 users
500GB of Storage
Direct FTP / SFTP Access
5 API Tokens
2FA (Two Factor Authentication)

Advanced Plan
$200 per month for Unlimited users
1TB of Storage
Unlimited API Tokens
Outside Audit Support
Account Manager
Pros and Cons
Pros
Able to send files to users with no account
Outside users are able to view files without creating an account
Direct link to shared folders
Able to set an expiration date for a created user's access
Able to embed a widget on a web page for users to upload files
Able to password protect links
Great customer support and support documents with pics and easy to follow instructions
Supports FTPS and SFTP, in addition to their web-based interface
Supports SSH keys for passwordless authentication for traditional file transferring needs

Cons
Private labeling the service to use your own domain is a bit broken; we are working with Exavault to see if this can be resolved
Does not use "secure by default" file shares, which means non-technical users really shouldn't be administering the service; they say they're working to resolve this now, so hopefully we'll see an update here soon
Virtual folders are not an option to share at the user level
Deleted files are only recoverable for up to 14 days. Users are able to permanently delete immediately if desired.
#3 – Egnyte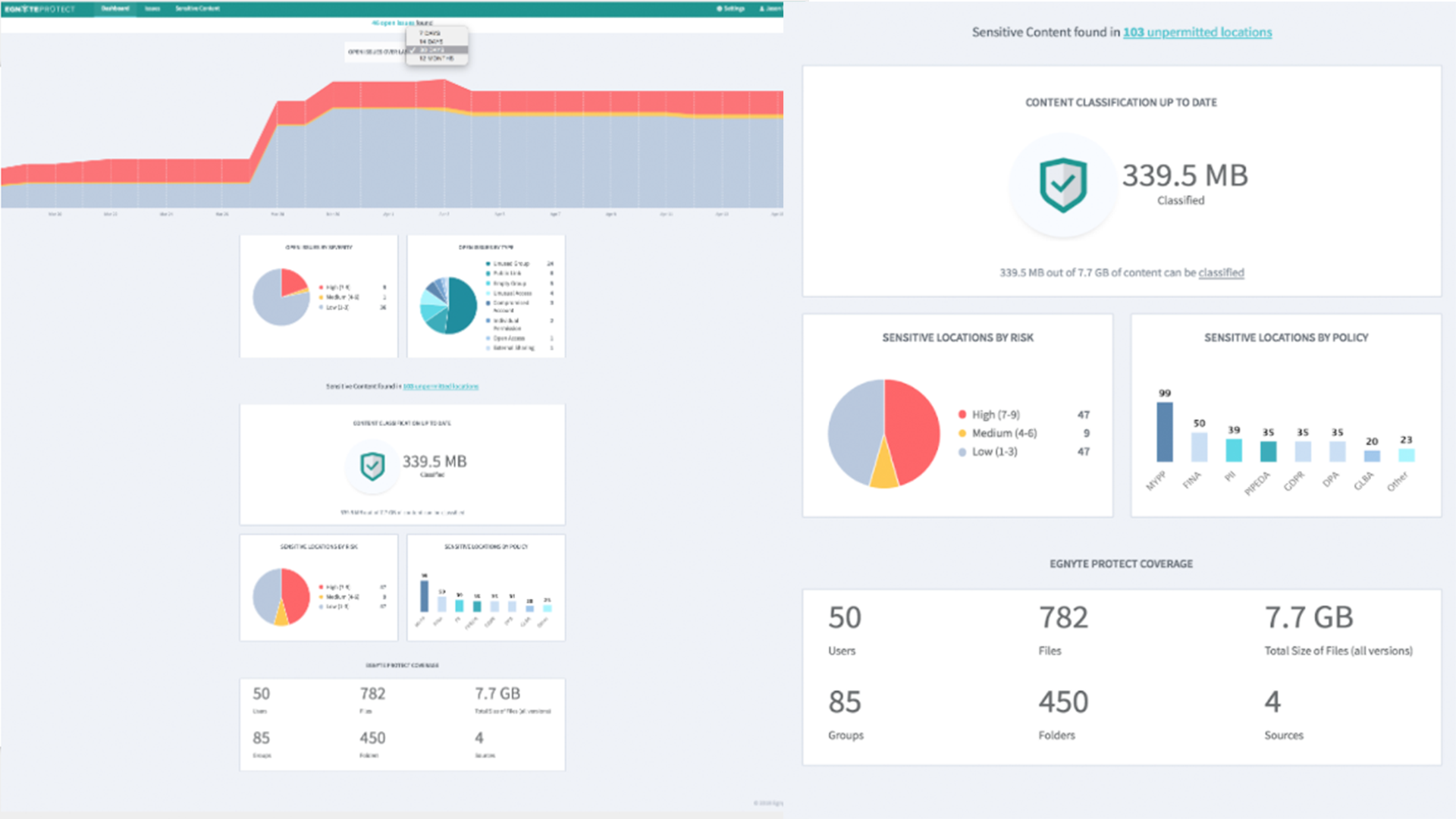 Egnyte would be my number one choice if tracking and protecting very specific types of information was my main concern. Security is the name of the game here.
They offer the same basic file sharing features as many other services, as well as features for collaboration, but with additional, more granular abilities.
Users are able to add permissions at a sub-folder level, have the ability to set a link expiration time based on date or number of clicks, and are able to choose to be notified each time a link is clicked or downloaded. Users can also disable link downloads altogether.
My favorite feature is their 'Versioning' feature which allows users to change which version of a document is visible. Users are able to make changes to a document without the need to send a new link with each change.
Pricing, Storage, and Features
Business Plan
$20 per month, per user (Max 10 users)
1TB + 10GB of storage per user (Max file size 100GB)
2FA and External Authentication
FTP Access
Audit Reports

Enterprise Lite Plan
$350 per month for 10 users
Custom Storage Space (Max file size 100GB)
Threat Detection (Suspicious Login, Unusual Behavior, Risk Summary Dashboard)

Enterprise Plan
$600 per month for 10 users
Custom Storage Space (Max file size 100GB)
Role Based Admins
Content Lifecycle (Archiving, Retention, Deletion)
Pros and Cons
Pros
Folder and sub-folder permissions
Password protected links
Multiple link expiration options
Versioning at the file level
Outside users must enter their name and email address when uploading a requested file. The user's IP address and location are noted as a comment on the file history.

Cons
Cost
Features are geared towards enterprise level businesses
#4 – Sharefile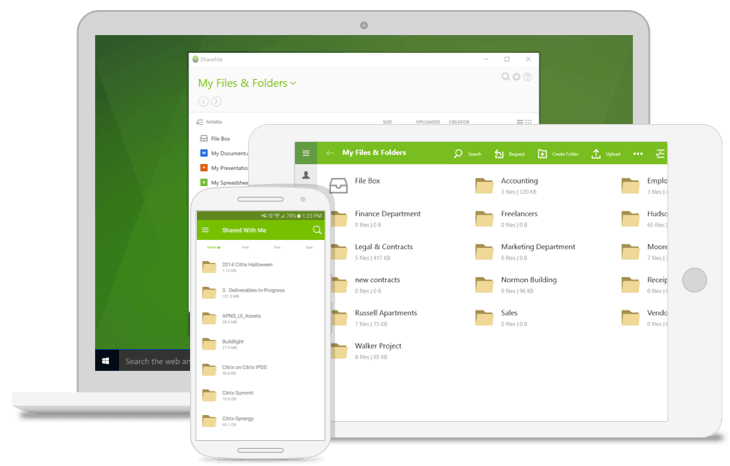 Sharefile is a good combination of a true file sharing service combined with a service geared towards collaboration among teams and clients.
It includes features such as the ability to easily share and request files, easily create new users, and the ability to create workflows to track documents and folders along the collaboration process.
An internal email service is also available.
Pricing, Storage, and Features
Standard Plan
$50 per month for 5 users ($9.90 per month per additional user)
Unlimited Storage
2FA
Unlimited Client Users

Advanced Plan
$77 per month for 5 users ($15.30 per month per additional user)
Unlimited Storage
Office 365 Co-Editing
Feedback and Approval Workflows
Encrypted Email

Premium Plan
$122 per month for 5 users ($24.30 per month per additional user)
Unlimited Storage
Unlimited Client Users
Request and Send E-Signatures

Virtual Data Room Plan
$338 per month for 5 users (Call for pricing for more users or storage)
5GB of Storage
View Only
Click Trails
Pros and Cons
Pros
Folder owner can add and delete users as needed
Folder owner can change user's permissions per folder
Can set up Distribution Groups for faster sharing

Cons
No verification process for uploading requested files
When sharing a file, the person receiving the file must set up an account in order to download or view the file.
#5 – Onehub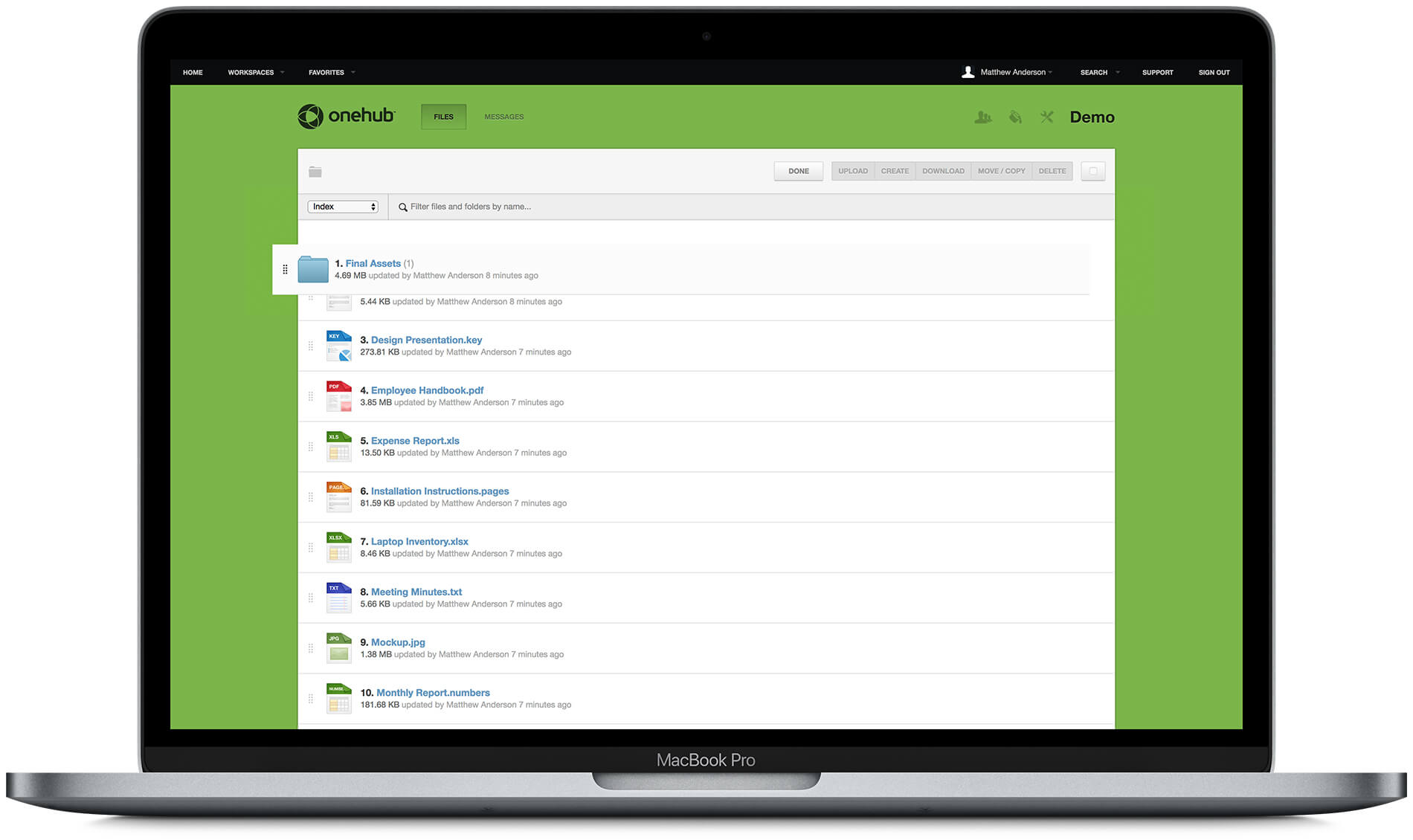 Onehub is also a good combination of a file sharing service with tools for collaboration. It's UI isn't as user friendly as some others, but it isn't too tough to figure out.
Users are able to create tasks for teammates, or outside clients, and their internal messaging feature makes for easier collaboration.
Pricing, Storage, and Features
Advanced Plan
$20 per month per user (Minimum 5 users, $20 per month for each additional user)
Unlimited Cloud Storage
Password protected links
2FA

Data Room Edition
$300 per month for 5 users ($20 per month for each additional user)
Unlimited Cloud Storage
Data Room Security
Dedicated Support Staff
Customized Training
Pros and Cons
Pros
Word and Google Integrations
Users can create Workspaces to keep projects separate. Only users that have been invited to that Workspace will see it.

Cons
UI isn't the best
Not a strict file sharing service
#6 – Box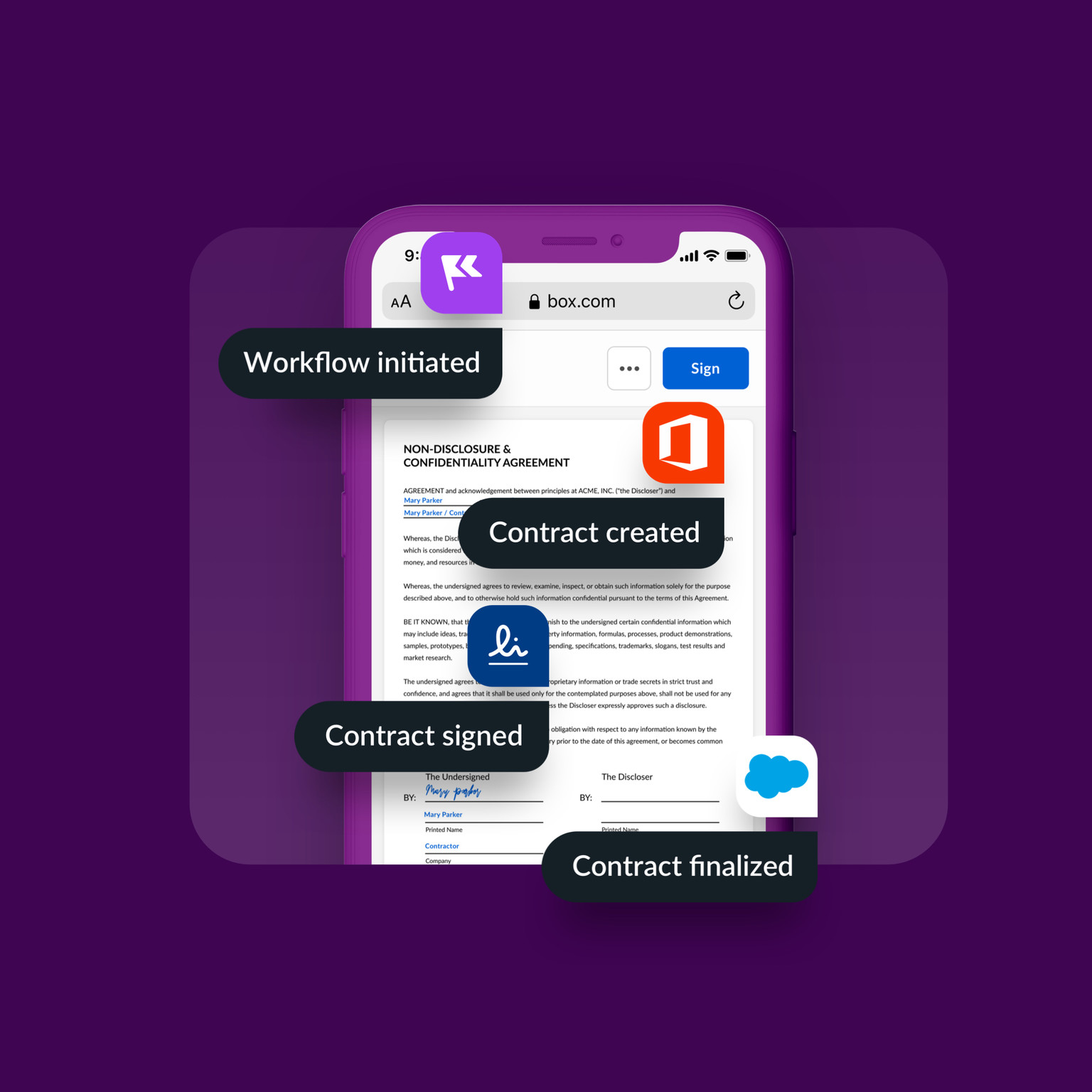 Box is a great service for project collaboration, though it is not a strict file service, thus placing it further down the list in this case.
Users are able to create Word documents, Powerpoint presentations, Excel spreadsheets, Google documents, and other presentations from within the app.
They offer a ton of integrations, which are great if collaboration is the user's main goal. The Workflow feature is a great way to keep tabs on a project's progress.
Pricing, Storage, and Features
Business Plan
$20 per month, per user
Upload files up to 5GB
Unlimited Storage
Integrations with Microsoft 365, Google Workspace, and Slack, plus 1 Enterprise App

Business + Plan
$33 per month, per user
Upload files up to 15GB
Access to 10 additional Enterprise App integrations
Custom metadata and metadata templates

Enterprise Plan
$47 per month, per user
Upload files up to 50GB
Access to 1,500 other Enterprise App integrations
2FA for external users (2 Factor Authentication)
Password Policy enforcement

Enterprise + Plan
Call for Pricing
Offers every feature available
Pros and Cons
Pros
Highly recommended from multiple articles
Able to comment on documents
Able to assign tasks and create and track workflows
Able to lock documents and disable downloads for specific durations

Cons
Can get expensive quickly depending on the number of users
Has more of a file/project collaboration feel than a strict file sharing feel
Honorable Mention
Google Workspace and Dropbox did not meet enough of our client's requirements in this case, but with both being major players in the file sharing landscape, a short review of each seemed fitting.
Google Workspace
workspace.google.com/pricing.html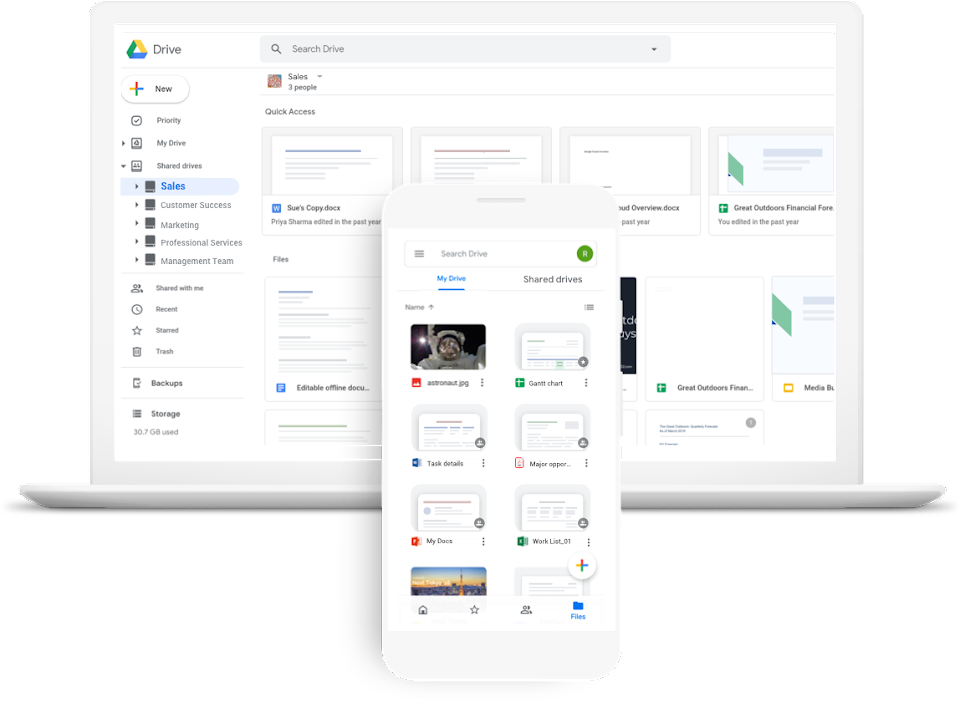 Google Workspace is not marketed as a true File Sharing Service, but it can definitely be used as one.
While it doesn't offer many of the features of true file sharing services, such as creating new users and assigning them permissions, or requesting files to be uploaded to your Drive, users are able to share files outside of their organization and set a few permissions for those outside users. Collaborating via comments is quite easy as well.
Pricing, Storage, and Features
Business Standard Plan
$12 per month, per user
2TB of Cloud Storage per user
Custom and secure business email
150 Participant video meetings plus recording

Business Plan
$18 per month, per user
5TB Cloud Storage per user
Enhanced security and management controls
250 Participant video meetings plus recording

Enterprise Plan
Contact Sales for Pricing
Unlimited Cloud Storage
Advanced security and compliance controls
Pros and Cons
Pros
It's Google. They do a lot of things very well.
Able to create documents, presentations, and spreadsheets and then share them inside and outside of your organization.
Able to share folders inside your organization

Cons
Not a true file sharing site. Doesn't have the feel of one.
Dropbox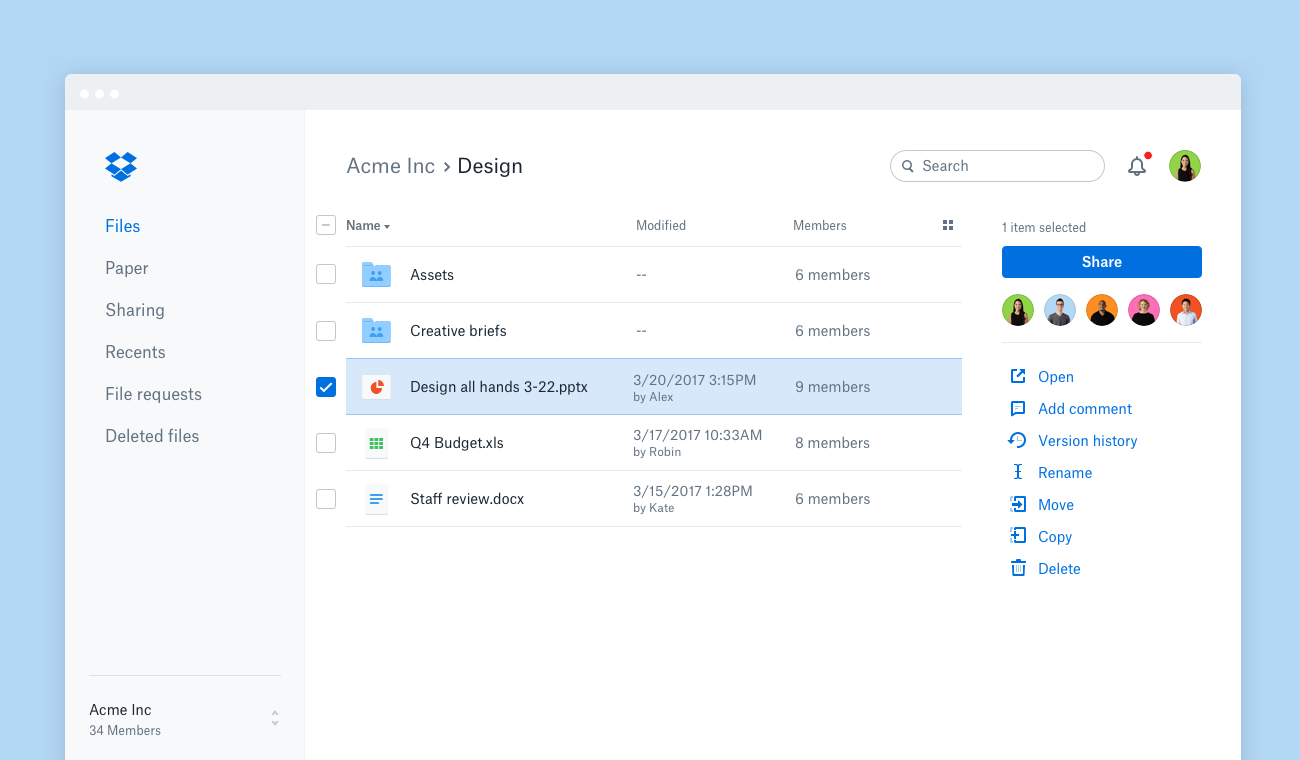 Dropbox is probably the most well known name on this list, as it was one of the original cloud storage companies, debuting in 2008.
Being the largest cloud storage service early on brought about security threats. Tho, their security has greatly improved over time, they still do not offer end-to-end encryption, which many other services do.
While Dropbox is great at what they have done from the beginning, which is offer cloud storage and syncing among devices, they still need some improvement on the business file sharing front.
Pricing, Storage, and Features
Business Standard Plan
$15 per month, per user (3 users minimum)
5,000 GB of Storage
2FA
E-Signatures (Only 3 per month)
Admin Console and Multi Team Admins

Business Advanced Plan
$25 per month, per user (3 users minimum)
Unlimited Storage
Device Approvals (Admins can control the number of connected devices)
Traffic and Insights (See who has viewed and downloaded your shared files)
Tiered Admin Roles
Audit logs with file event tracking
How are you currently sharing files?
Like I said in the beginning, this is not an exhaustive list of every single File Sharing Service out there. There are plenty more that may meet your needs better than any on this list, but I hope this list at least gets you started on your way to finding one that works for you.
Send me a note via the contact form if you'd like help integrating a file sharing service into your business operations. We specialize in the back office side of things to help automate system-to-system file transfers and update processes that need passwordless integrations. So, let me know if that's something you need help with establishing.
Happy Sharing!
Disclosure: Sparkfish has no relationship with any of the listed products other than being a customer of one or two of them.